In case you didn't know, I love J. Crew. Love, love, LOVE! And while nothing is a substitute for the real thing, I couldn't help but noticing several familiar looking items as I browsed the women's clothing section at my local Target. J. Crew version is on top, followed by Target version below.
Lamé Tanks: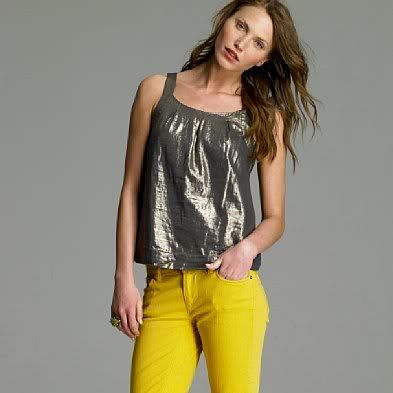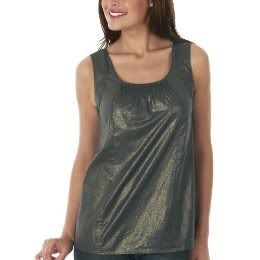 The one on the bottom is from Target and the one on the top is J. Crew's. Target's is $17.99, while J. Crew's is a whopping $98. Both are made from a cotton-lawn type of fabric, and the Tarjay version looks a lot more flowy in person. Since most of us probably don't incorporate lamé into our outfits on a regular basis, I'd say go with the Target version.
Pretty Floral Prints: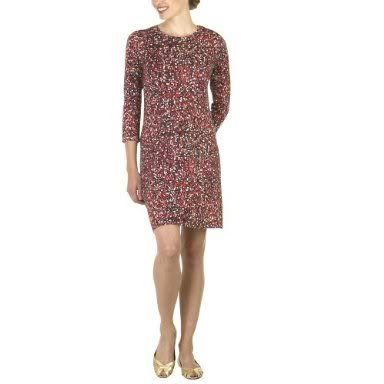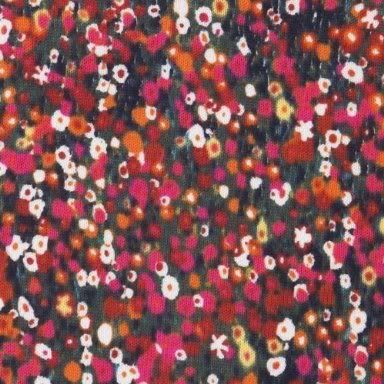 J. Crew's beautiful Watercolor Garden Lydia Blouse ($110) is beyond compare, and I can definitely see one of those making its way into my closet very soon. But if you like that floral print, Isaac Mizhrai has shrunken it down considerably and put it on a cardigan and the mini-sweaterdress ($39.99) above. The dress is actually very cute in person. Not sure if I can pull it off, though...
Abstract Floral Prints: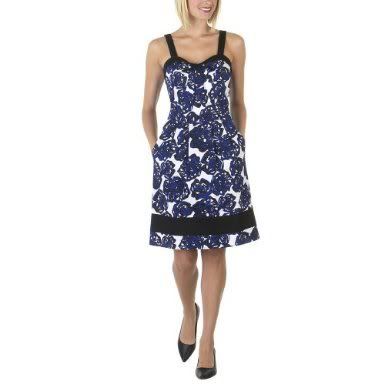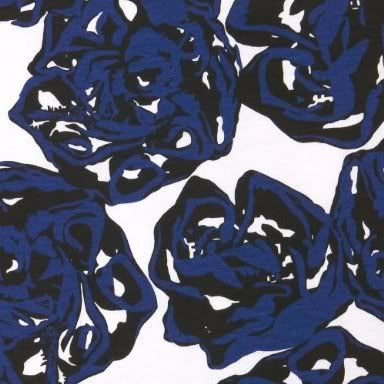 I couldn't help but notice how similar Richard Chai for Target's rose print (available in the above-pictured dress, as well as a tank and a button-down shirt) looked like J. Crew's Abstract Rose Print strapless dress ($165).
Tiered Dresses: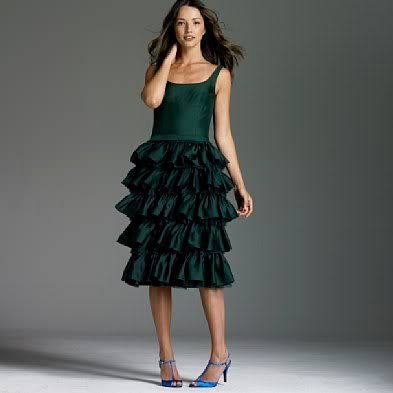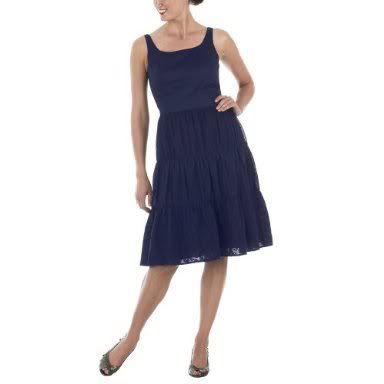 This look is certainly not for everyone (namely anyone who has the slightest bit of a rear-end), but if it IS your cup 'o tea, you can spend either $650 for J. Crew's Fontaine Dress (also available in a long, wedding-gown version) or a mere $39.99 for the Isaac Mizrahi version. I am struck by the similarity in the necklines of the two.
Long V-Neck Cotton Cardis: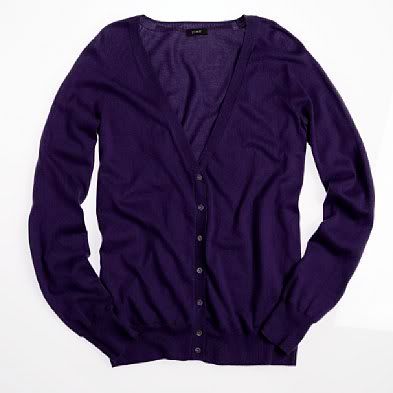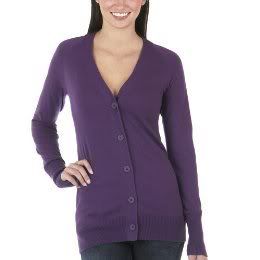 I don't know how I feel about this trend yet; I'm not so sure that it will look good skimming the hips of a pear-shaped person such as myself. I haven't seen either version yet in person, but given my ambivalence, I think I'd opt for the Mossimo version at only $19.99 over the more expensive J. Crew version at $88.
Tie-Neck Tees: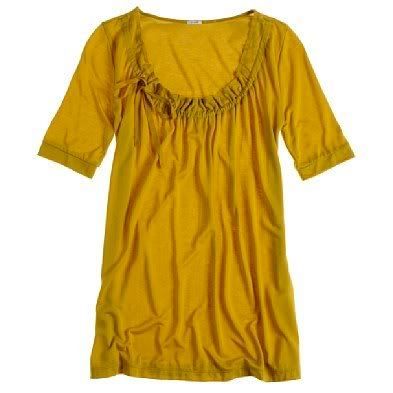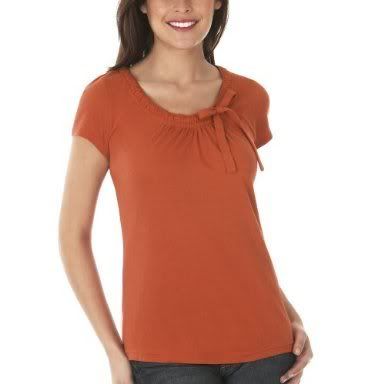 J. Crew: Silky, pretty jersey; elbow-length sleeves; long and flowy; $58.00. Target (Merona): Ugh-looking cotton stretch fabric ; short sleeves; short and fitted; $9.99 (on sale). I think J. Crew wins this battle. I actually scored the J. Crew version in a pretty teal color in-store, on-sale for $39.99, plus an additional 40% off.
Contrasting Color Cardigans: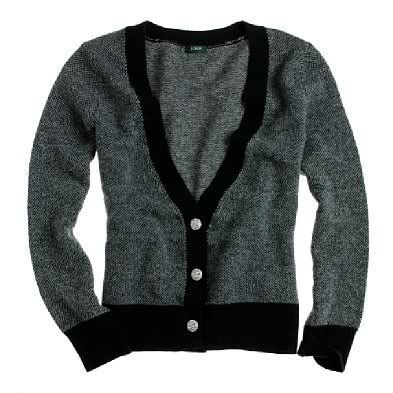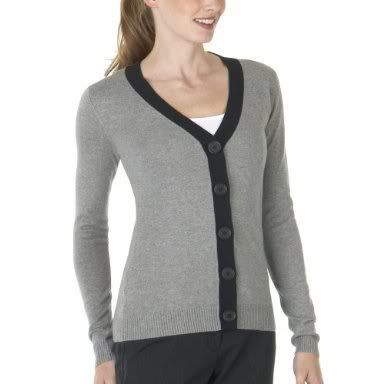 Okay, it's not really fair to Merona to compare their $19.99 cotton-blend sweater with J. Crew's luxurious wool-cashmere blend cardigan with FAB crystal buttons ($118). But if you like the contrast-trim and don't have the money for J.Crew, the Target version would be a good bet. Thank goodness I have enough credit left on my J.Crew card...
Models: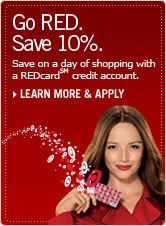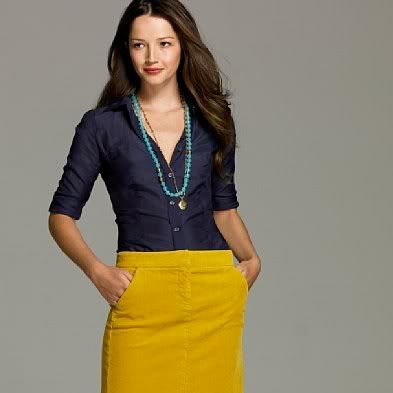 I have a problem. I really do. Last week when I was signing for my purchases at SuperTarget, I looked down and saw the above promo featuring the same adorable model that also makes regular appearances on the J. Crew website and in the catalog. Lord, help me.